Home
->
Reviews
->Matthews Point Marina
Matthews Point Marina
2645 Temples Point Road
Havelock, NC 28532
252-444-1805

Clubhouse steps, with green lawn and docks in the background.
With all the good marinas lining both banks of the Neuse River, sailors can afford to be discriminating about where they keep their boats. Personally, I'd rather be in a sailboat marina for the quiet and low-wake character. I like a place with good sailing territory right out of the slip, and I like a high level of security so I can leave the boat for weeks at a time and know it is safe. In the ten years I have been on the Neuse, I have kept my boat at Matthews Point Marina because it provides all these things.
One thing I have found, is that the people are the same everywhere, at least in the sailboat marinas. Matthews Point people are great sailing partners, fine grill operators, friendly dinner companions, and game late-night drinkers. All that could be said of my old companions at Southport Marina, where I kept my boat years ago when I first bought it. My visits to Blackbeard uncovered the same culture. I think it is characteristic of sailors to be non-judgmental, interested in unconventional outlooks, and self-confident enough not to get all defensive if someone else doesn't live just the same way they do.
There are plenty of other beautiful sailboat marinas on the river, but in my opinion only Sea Harbor in Oriental offers the same combination of attributes as Matthews Point. I have been in there a few times. The people are friendly, the lower Neuse is right at the doorstep, and the docks are sheltered and protected. Blackbeard Club is a wonderful place but too far up the river to be convenient for daysailing or short overnighters - it takes a small sailboat half a day just to get down to the good sailing downriver of Oriental. But if I was keeping a boat for occasional long sails where the downriver trip was a small part of the whole, Blackbeard would be high on my list of best marinas on the river. Ensign Marina off Lower Broad Creek is beautiful and sheltered, but a little shallow for deep-drafted boats. It's small, too, and there may be a waiting list for slips.
The dockmaster stands by to assist an incoming boat.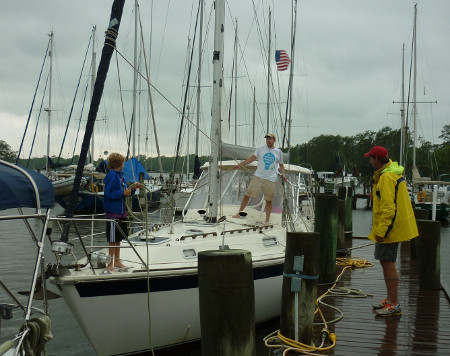 Those are my choices for nice sailboat marinas. All the marinas I have mentioned with one exception will allow powerboats, either transient of long-term, but most of the resident boats are sailboats. The exception is Blackbeard - sailboats only. For powerboats, Morehead City Yacht Basin is a good option.
Jet Matthews owns Matthews Point Marina and he lives in his beautiful house on the property. As you might expect, he takes great interest in keeping the marina well-groomed and nicely landscaped. The marina is at the end of a long country road and the driveway is lined with small houses that Jet owns and rents out, commonly to Marine officers and their families associated with the base at Cherry Point. So security is good - nobody wanders into Matthews Point Marina unnoticed. I have kept my boat there for ten years and never felt a qualm about leaving it for weeks at a time.
Jet puts a premium on having experienced, mature dockmasters, and Tom Watts is one of the best. Tom is meticulous and detail-oriented and keeps the whole place neat and straight. He is usually on the dock waiting to lend a hand as boats return from the river. He sells gas and diesel at the fuel pumps. But most important, he walks the docks at least twice a day, always alert for a frayed or loose dockline, making adjustments if necessary to keep boats off the pilings. I have seen Tom and Jet both out on the docks during rough weather, making sure that all the boats are safe.
To top it off, Tom is friendly, thoughtful and reasonable in every way, and Jet is one of the truly great raconteurs. I have listened for hours spellbound by his stories of life on the water and in the hunting clubs of southeast North Carolina.
I have my own story about the early days of the marina that I've heard from several old-timers. When Claiborne Young wrote his first edition of "Cruising Guide to Coatal North Carolina", he noted that while Matthews Point was a beautiful location with great facilities and friendly staff, he couldn't recommend it because of the shallow, tricky entry channel that was too difficult to navigate for keelboats. Some marina owners might have gotten in a huff, but not Jet. He went out in a skiff and laboriously charted the channel, then lined it with markers so that any visitor could find his way in. Then he called Claiborne and invited him to come see the marina again. In later editions of the cruising guide, Claiborne praised the marina to high heaven and stated "The entrance channel is well-marked, and pleasure craft of most any size can enter with confidence...I recommend Matthews Point Marina without reservation".
Comfortable, inviting clubhouse.
One of the great features at Matthews Point is the clubhouse. The dockmaster keeps it spotlessly clean, and it is comfortably furnished. The walls are lined with black and white photographs of prodigious catches from back in the 1960s when the property was a fishing camp. There are also charts and satellite photographs of the river and sound that are often perused by sailors planning trips. In one corner is a small kitchen with refrigerator, sink and microwave that serves as a support facility for the parties and dinners that happen almost every weekend during the sailing season. Out a sliding glass door is a spacious deck overlooking the docks, with tables and chairs for outdoor dining.
Add to this the manicured grassy lawns and spotless restroom and shower facilities. Out on the docks you will find piped fresh water at every slip, along with 30 or 50 amp power. The marina has a pump-out and fuel dock with diesel and gas. In other words, all the amenities that you would expect to find.
The marina location has its pluses and minuses. On the minus side, it's a long way to the grocery store, so it's best to stock up on the way in. Going out to eat can be an expedition, so people take advantage of the charcoal grill on the deck below the clubhouse. On the plus side, the setting far back in the country is beautiful and quiet. The lower Neuse with its wonderful sailing is at your doorstep, and the marina is strategically located close to the ferry to Pamlico County. Highway 101 is a good backdoor route to Beaufort.
Anyone looking for a good Neuse River marina should consider Matthews Point. Drive over- or better, sail over - and see for yourself. Call ahead and the dockmaster will be there to catch your lines.
Reviewed by Paul M. Clayton