Home
->
Reviews
->Best of Uffa
Best of Uffa
Uffa Fox
Edited by Guy Cole
International Marine Publishing Company
Camden, Maine 1978

Between 1934 and 1938 the great English naval architect and builder Uffa Fox wrote a series of books with hundreds of drawings of hull lines, sail plans, construction details and other facets of design that he found notable, along with his commentary. The results comprised a survey of the state of the art in sailing craft design for the day. These books are almost unobtainable now, commanding immense prices on the used book market. Fortunately, Fox's executors allowed Nautical Publishing of Lymington, England and International Marine Publishing of Camden, Maine to reprint a selection from the original books under the title Best of Uffa. Fox's friend Guy Cole added notes and commentary, but the drawings and words of Uffa Fox are just as they were in the original books. Most of the photographs are vintage Beken of Cowes. While even this reprint is becoming rare, it can be found at not too prohibitive prices. I had the pleasant opportunity to spend a day of downtime at Blackbeard Sailing Club and read the copy in their library.
The book begins with a few pages of biography, from Fox's birth in 1898 in the Isle of Wight, through his first transatlantic crossing on Bill Nutting's Typhoon and his invention of the planing dinghy in the early 1930s, to his war work in the 1940s and heyday as naval architect to royalty in the 1950s. Fox designed his last boat in 1972, and died later that year.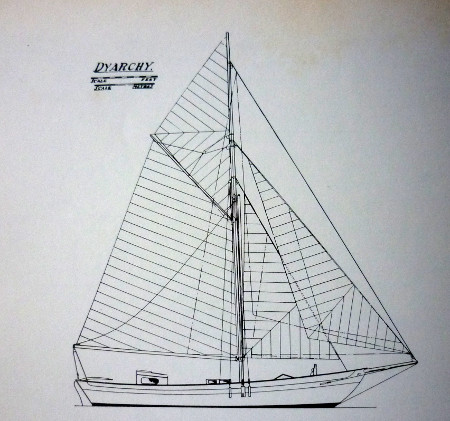 After this introduction, the book goes immediately into the fifty featured boats from Fox's prewar books. The boats range from International 14s through 143 foot Bluenose, representing designers from William Fife through Starling Burgess. One of my favorites is the Laurent Giles designed Dyarchy, a 45 foot gaff cutter, built in 1939. This husky boat has a transom-hung rudder and tiller steering, flush deck, relatively narrow beam, small, self-bailing cockpit and deep, full keel. It is the quintessential English cutter, descended from the Bristol Channel Pilot Cutters and one of the last of the breed. Guy Coles notes that Eric Hiscock, the great proponent of simple, seamanlike cruising, learned to cruise "without fuss" on Dyarchy.
What boat is better known or has a stronger mystique than Olin Stephens' Dorade? Fox has a lot to say about the famous yawl in his usual conversational manner. He notes that Dorade's small tiller shows her to be a well-balanced boat, and recalls watching Rod Stephens, Olin's brother, sail the 52 foot Dorade in single-handed, pick up a mooring, stow sails and jump into a waiting International 14, all within eight minutes. Fox credits the double headsail rig for much of Dorade's ease of handling, noting that a staysail could be backwinded which dropped the boat's speed to three knots and allowed the crew to work sails under quiet conditions. He applauded the positioning of the navigator's log where it was easily seen by the helmsman, and took the opportunity to tell a story on himself. "...it gave my vanity a nasty shock, for, before steering Dorade with her tell-tale log, I fondly imagined that I took a boat quite nicely to windward...Dorade's best was four points off the wind and just over six knots...I saw that log dropping down as low as 5 3/4 knots without my feeling that I was starving her of wind, or the compass showing that I had pinched her above her best course." He summed up his words by saying "I have tried to make it clear that her ability and success does not lie so much in any special point, but in the perfection of every detail."
Other notable featured boats include Fox's own Vigilant, a 34 foot racing boat with 9 feet of overhangs, a six foot beam and what appears to be a foot at most of freeboard, which Fox and two friends sailed from Cowes to Sandhamm, Sweden. This boat was typical Fox iconoclasm, from a man who once stated that weight was only of value in a steam roller. There is the yawl Latifa, a Fife 70 footer purported to be one of the most beautiful boats ever built. And there is Britannia, built in 1893, a boat of great symbolic value to the people of the empire, the boat of King George V. When the old man died, Britannia was towed to sea and sunk in deep water.
Like old King George and Britannia, the wooden boat and the gaff rig, Fox's era is gone but a modern reader can still get a glimpse of it in books like Best of Uffa.